2022-04-08
SYNERGY
11th School for Young Materials Scientists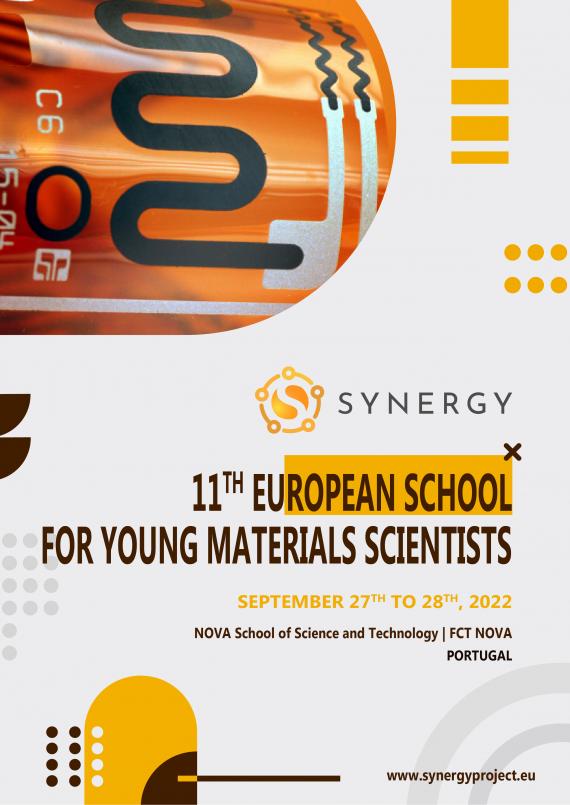 The SYNERGY project is presenting the 11th European School for Young Materials Scientists. The event will be held from September 27th to 28th, 2022 in NOVA School of Science and Technology | FCT NOVA, Caparica (Portugal).

The 11th European School for Young Materials Scientists aims to bring together young scientists, mainly PhD students, working in the fields of Materials Science, Nanotechnology, Nanoscale Materials, Nanoanalysis and Multi-scale materials
characterization. A special topic this year, beside the ones above, will be on flexible electronics.
The school will be a two and a half‐day event with lectures from prominent scientists in the above-mentioned fields as well as a focus on the active participation of the PhD students.
The school will create a lively forum that brings together presentations of the PhD works (oral and posters), intensive discussions, and many opportunities for interaction and networking.

In case of any questions please feel free to contact us:
Dr. Diana Gaspar: dgaspar@uninova.pt

Mrs. Sara Oliveira: sec-cemop@uninova.pt
We are looking forward seeing you in Caparica!
Confirmed Lecturers:
Prof. Pedro Barquinha – NOVA School of Science and Technology | FCT NOVA (Portugal)
Prof. Maciej Szczerba - Institute of Metallurgy and Materials Science of Polish Academy of Sciences (Poland)
PROGRAM:

Location:
UNINOVA E1, NOVA School of Science and Technology | FCT NOVA, Caparica, PORTUGAL

Language:
English
Organization:

Sponsors:
SYNERGY | Project has received funding from the European Union's Horizon 2020 Research and Innovation programme, under the Grant Agreement number 952169
Krakow School of Interdisciplinary PhD Studies - KISD | supported by NAWA Polish National Agency for Academic Exchange in the  frame of STER PROGRAMME Internationalisation Of Doctoral Schools Krakow: PPI/STE/2020/1/00020/U/00001 "Interdisciplinary Doctoral School for Internationalization, Interdisciplinarity and Innovation"
Check out our accommodation suggestions below:
Fraústo da Silva Halls Residence
Address: Azinhaga do Castelo Picão, 2825-047 Caparica | T.: +351 212 945 000
(2mn walk from the University)
Mercure Lisboa Almada Hotel ****
Address: Rua Abel Salazar, 9 Pragal, 2805-313 Almada | T.: +351 212 761 401 
(Access to the Metro with direct route to the University)
Address: Rua Candido dos Reis nr.126, 2800-270 Almada | T.: +351 212 746 033
(Access to the Metro with direct route to the University)
Address: Rua Candido dos Reis nr.35 - 39, 2800-270 Almada | T.: +351 91 982 8238
(Access to the Metro with direct route to the University)