News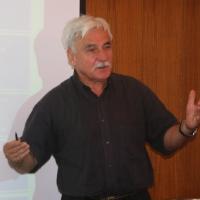 We are sad to hear of the death of Hanns-Ulrich Habermeier who died on July 20th, 2019 in Stuttgart / Germany. He was an internationally well renowned applied physicist, who spent his all career to Materials Sciences. Since several years he had to fight about his illness, remaining very active nearly to the end. At the last May E-MRS / IUMRS / ICAM conference in Nice, he was still active participating to all debates. Unfortunately he lost his last battle.
CENIMAT / I3N has just been evaluated by an external commission, made up of international experts in the areas of Microelectronics, Nanotechnologies and Nanosciences, has just evaluated us as excellent and that the activity performed is among the best in Europe, as transcribed below : This is one of Europe's strongest research laboratories in the field of nanotechnology. ... in the areas of nano- science, engineering and technology.
Between the 11th and the 16th of July (2003), the 1st Training Program in Microelectronic Technologies entitled "Microelectronics and Electronic Materials in High School" was held in the Department of Material Science, under the PRODEP III directive. The training was supported by CENIMAT and CEMOP whose research centers/laboratories are related to the Department of Materials Science.
Ongoing work in producing fully transparent active matrice for display application will soon be disclosed.
CEMOP developed the first fully transparent thin film transistor based
on the exclusive use of oxides! This work has been under the responsability of Prof. E. Fortunato, with the cooperation of G. Lavareda. More detailed information will be available in the site soon.
After an external evaluation by the Fundação para a Ciência e Tecnologia (a governmental agency for science and technology), CEMOP (within CENIMAT) was again recognized as the leading cutting edge in Europe in the field of thin film microelectronics and optoectronics. The external evaluators clearly recognized CEMOP, giving the group the highest remarks and ranking it as excellent.
Candidate application deadline is (extended) 28th February 2005. Within the european research training network
Emerging electronic materials and devices for microtechnology applications
UNINOVA-PORTUGAL
May 8th & 9th, 2006
To view the video (in portuguese language only), please select your Internet connection
To view the video (in portuguese language only), please select your Internet connection