2022-10-28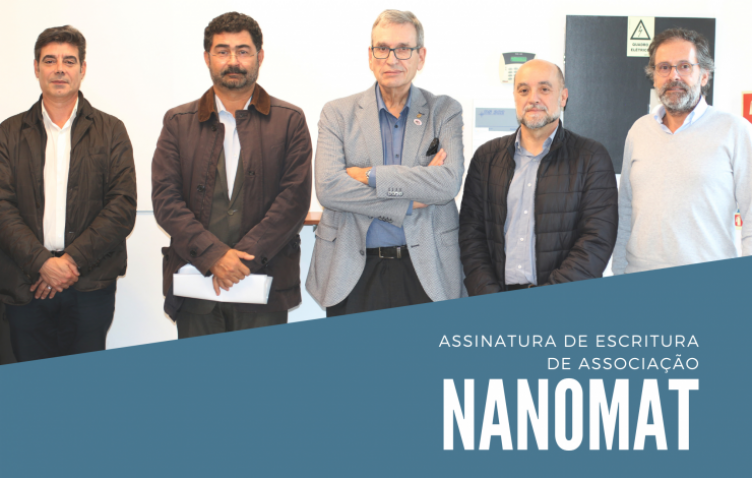 The official signing of NANOMAT - ASSOCIATION FOR RESEARCH AND DEVELOPMENT IN ADVANCED MATERIALS AND APPLICATIONS took place yesterday, October 27th. 
NANOMAT has as installing commission the IST (Prof. Rogério Colaço, President IST; Profª Drª Fátima Montemor; Prof. Paulo Ferreira and Prof. Pedro Amaral) and NOVA (Prof. Rodrigo Martins, Director CENIMAT|i3N; Prof. João Paulo Borges and Prof. PEdro Barquinha). Both institutions were present with powers to represent all signatories.
The initial signatories as founding members were: 
NANOMAT's mission is to build a strong network/association based on the 3 fundamental pillars of a harmonious development, which are: Society/Autarchies, Industry (including SMEs) and Academia (Research Centres/Institutes), covering the whole value chain in advanced materials, able to promote the realization of products and eco-sustainable technical solutions of high performance, excellent cost-effectiveness, for the Portuguese industry. In this way, it is intended to support the national strategy, capable of boosting the economy, competitiveness, market growth and creation of new jobs, namely in the areas of energy, health, transport and information and communication technologies.
More information on the mission and objectives HERE
In Media:
FCT NOVA announces the creation of the Association for Advanced Materials, Medjournal, InterMETALl, InterPLAST, Novo Perfil,  08-11-2022
NANOMAT nasce para impulsionar inovação e competitividade dos materiais avançados, Ambiente Magazine, 08-11-2022
FCT NOVA announces the creation of the Association for Advanced Materials, O Electricista, O Instalador, 09-11-2022